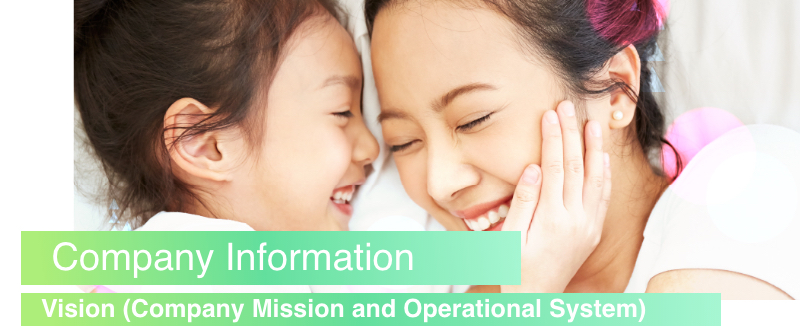 Company Mission
"To bring beauty and smiles to all ladies"
Aishitoto is a company dealing with projecting, manufacturing,
and sales of collagen products, health foods, cosmetics, and inner clothes.
We believe if women from all walks of life stay happy,
it will also bring positive change to our society.
With the belief of
"A country would be prosperous once all women stay happy,"
Aishitoto focuses not only on sales but on how to deliver
heart-warming messages to our customers.
We're working on various projects,
including launching magazines for our members,
participating in environmental conservation and educational activities.
Besides, with the ambition of becoming the best company in the world
that keeps caring about customers,
we've expanded our business overseas, mainly focusing on Asian countries,
hoping to deliver happiness to people all over the world.
(Our 10 Business Guidelines )
●Have a mindset as the manager
●Operate the business for customers
●Contribute to society, achieve our mission, and establish a rich and abundant society
●Provide a genuine heart and product to customers
●Be a beneficial person with a growth mindset
●Have an appropriate business mindset instead of a profit-oriented mindset
●Be grateful, humble, honest, and patient
●Make our people before making our products
●Gather to learn and do not surrender to barriers
●Strive to follow the general knowledge of business and common sense of society
●Have a mindset as the manager
●Operate the business for customers
●Contribute to society, achieve our mission, and establish a rich
 and abundant society
●Provide a genuine heart and product to customers
●Be a beneficial person with a growth mindset
●Have an appropriate business mindset instead of a profit-oriented  mindset
●Be grateful, humble, honest, and patient
●Make our people before making our products
●Gather to learn and do not surrender to barriers
●Strive to follow the general knowledge of business and common  sense of society